Lilya's Corner
Suggested Resources
In the library
Nonprofit Excellence in Fundraising
Built upon the success of the best-selling "Nonprofit Management 101," this easy to digest book provides practical, comprehensive guidance for nonprofit fundraising around the globe. With tips and tools, expert advice, and real-world insights from almost fifty industry leaders, this robust resource addresses the entire spectrum of fundraising for nonprofits, including: Planning, hiring, and tracking progress Individual donors, major gifts, events, and direct mail Board and volunteer engagement Foundation and government grants Corporate partnerships Online and email fundraising.
Advice from the Expert
July 2018
God's Creation
By Richard Block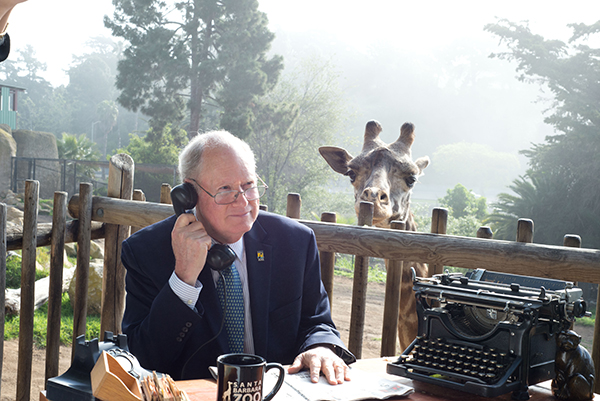 It's been three decades since leaders of many denominations gathered at Washington, DC's National Cathedral to explore "Caring for Creation." There was a shared sense that all faiths should teach responsibility for the care and stewardship of all God's creatures. From their role throughout the Bible to the peace and comfort they bring to so many today, animals are an integral part of creation and we are responsible for their welfare and survival. They complete us as individuals and as part of God's greater plan.
We are blessed with an awe-inspiring diversity of animals that surround us, from the tiny invertebrates found in the depths of the oceans to the snow-covered peaks of the highest mountains to the largest of animals such as the blue whales of the world's seas and the elephants of Africa and Asia. They inspire us, challenge us, and comfort us. In their moments of greatest distress, animals can bring out the best in humanity and demonstrate our adherence to Christianity's highest principles.
Each animal, with its unique purpose and design, helps complete the grand pattern in the tapestry of life. Animals add an essential richness to all our lives. Whether we chose to acknowledge it, we are all part of this same fabric. For some people that recognize this connection, the care and protection of animals provides an added sense of purpose in life by providing for God's creation.
Today, just as individuals, families, communities, and nations face the unique, perplexing challenges of our times, animals too are in crisis around the world. Whether from loss of their habitat and homes to the challenges of pollution, the future for many animals looks bleak. Their situations are most often the result of people's greed, egotism, and lack of awareness. Fortunately, compassion and concern for the welfare of animals has guided people to take on the mantle of caring for God's creation. Clad in this sense of purpose, an array of people's skills are enlisted to secure a better future for these kindred spirits.
Whether working directly with animals or serving behind the scenes, people recognize that the solutions to saving animals are often complex. The acquisition and protection of habitat, essential to saving animals in the wild, is mainly accomplished through financial resources. Fundraisers, motivated by the mission of caring for God's creatures, create fulfilling opportunities for others to participate in this important cause. Similarly, fundraisers support the establishment of sanctuaries and shelters that provide for countless animals in need of protection and a home.
Not everyone will have the hands-on opportunity to participate directly in the restoration of habitat or in the professional care of tigers, bears, and elephants. That does not diminish our ability to be inspired by the diversity and beauty of God's creation. Fundraisers provide the opportunity for everyone to participate in and experience the satisfaction of making a difference for animals around the world, from the animals that provide companionship to the animals that inhabit our world's last wild places.
_____
Richard Block assumed the position of CEO of the Santa Barbara Zoo in July 1998. In this capacity he provides direction for the development of the Zoo and works with key staff and volunteers to ensure that future needs are met. Prior to moving to Santa Barbara, Rich was the Vice President for Scientific & Program Development at the Indianapolis Zoo. For seven years Rich served as director of public programs and as a senior fellow for World Wildlife Fund in Washington, DC.
Rich's career includes experience as curator of public relations at the Kansas City Zoo, curator of education at Zoo Atlanta, and faculty member in the University of Michigan's School of Natural Resources & Environment. Rich has lectured widely in the U.S. and abroad about wildlife conservation and the need for individual action. He has served as a technical adviser to writers and publishers of books, films and CD-ROMs on endangered wildlife, rain forests, and giant pandas.
Rich serves as Chair of the California Association of Zoos & Aquariums (CAZA), is the board Chair of the Santa Barbara Region Chamber of Commerce, is a member of the Channel Islands National Marine Sanctuary Advisory Council, served on the Executive Committee for Visit Santa Barbara (formerly Santa Barbara Conference & Visitors Bureau), and is a past Chair of the California Association of Museums (CAM).
Rich holds a B.S. degree in environmental studies from Principia College in Elsah, Illinois and an M.S. degree in natural resources from the University of Michigan in Ann Arbor. Rich lives in Goleta with his wife, Tracy Pfautch, and his 18-year-old son, Carter.
Richard Block, CEO, Santa Barbara Zoo
Ph: (805) 962-5339 Ext. 104
Email: rblock@santabarbarazoo.org
Career information for fundraising professionals and practitioners
July 3, 2018
As of July 4, 2018 The PSI 2018 conference is over, and according to feedback we've received, it was both…